Art: GrainTerminal
The software is intended for complex automation of management and real-time quantitative and qualitative accounting at grain (oil) sea and river terminals.
These software suite includes the capabilities of the subsystems «Art:GrainStorage» and «Art:Stevedoring company» (which can be supplied separately). In addition, the system can be used in the «Art: Oil terminal» mode for oil bulk cargo accountancy.
The feature of the kit is its flexible configuration for:
delimitation of data viewing and changing areas;

changes in the amount of entered information, depending on the user's authority;

changes in the order of the business processes stages without software code changing;

expansion of workplaces opportunities by the functions of the adjacent subsystems (Art: Weighing station, Art: Railway section, Art: Consignment note, Art: The grain terminal tallyman).
In addition to the basic functionality, this solution includes the following features:
The cargo handling system (stevedoring unit):
registration of the ship entries, cargo plans, time sheets, orders with attachments (lists), delivery certificates, bills of lading, manifests; the calculation of storage and handling services, the formation of invoices, certificates of acceptance – similar to the «Art: Stevedoring company «module.

shiploading of grain to the vessel with a warehouse variant (by cars through the weighing station or using hopper scales) and with direct variant (autocars or cars after acceptance);

oil shipment on vessels (by measuring the level difference and calculating the weight of the cargo according to the calibration tables taking into account the cargo temperature and the type of the tank at the beginning and end of the shipment);

calculation of the shipment intensity (tons / transport units per hour / day), comparison with the norms;

reports on the implementation of cargo plans, orders for loading, the results of shipment on vessels in the context of holds.
Art: Consignment note (optionally). Software complex of internet and mobile applications:
web-application for input and printing of consignment notes with the use of document templates and automatic filling of many fields;

mobile workplaces for accelerated registration of vehicles at the entrance to the grain terminal, minimizing the human factor, filling out the consignment note data from the central database «Art: Consignment note «;

cloud service for accessing the consignment note database for traffic trucking control and analysis.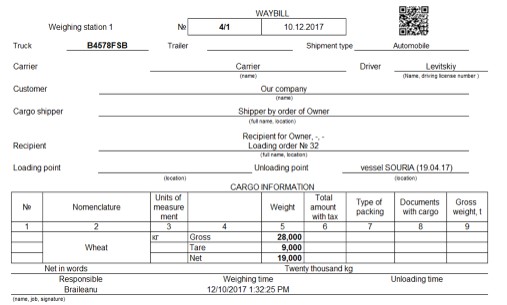 Art: The grain terminal tallyman (optionally):
mobile workplace (OS Android, iOS, Windows) to register the arrival of the auto to the port from the warehouse, unloading on the vessel and departure for the next loading;

use QR-scanning and GPS-location to accelerate the work and to control the vehicles with cargo movement.