The software solution «Art:RailWay» is intended for registration of the cars and locomotives in the railway section of the enterprise. The configuration has been developed as a supplement to a standard software product «1С: A Small Company Management for Ukraine».
Advantages of the solution: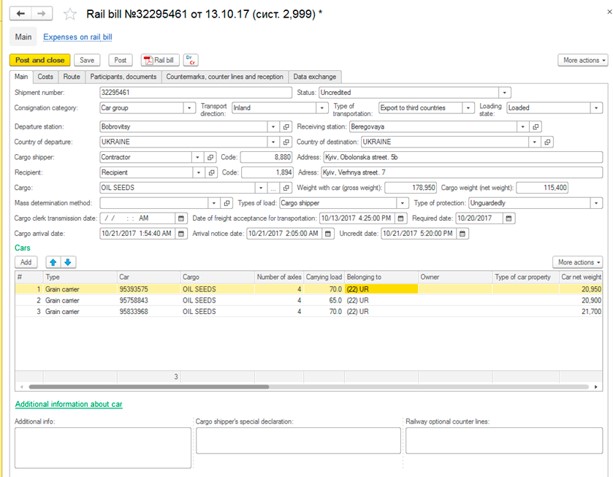 Minimization of manual data entering and the car and cargo information monitoring;

Visualization of the cars location in the station territory and in the railway section of the enterprise;

United informational space for all the users (UZ employees at the station, railway terminal, consignors/consignees);

Integration with other informational systems (for example, the weigh department software);

Commercial privacy.
Functional capabilities:
Automatical download of digital railway invoices from the informational system UZ and registration of the cars, cargoes and other information at the database*

Patterns for quick and simplified information input into documents;

Visualization of the cars location in the territory of the railway terminal and consignees with a possibility of interactive document creation, car colouring at randomly chosen data, connecting to different parts of the enterprise;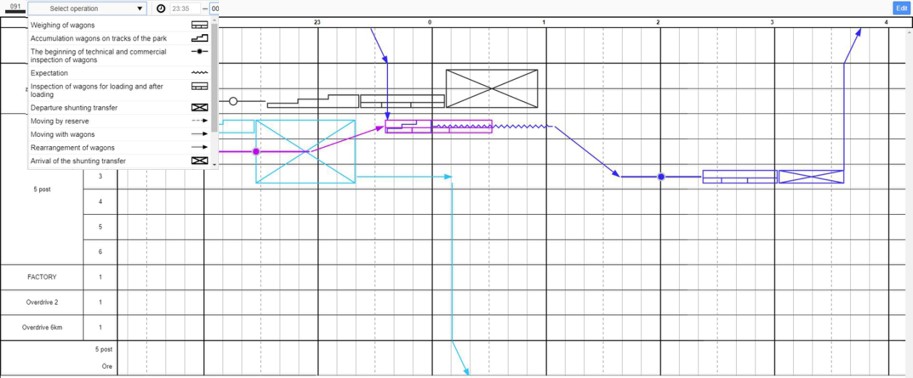 Automatic download of the car weighing data from the external programme of weight registration;

Running schedule registration, detailed registration of travelling and other locomotive operations, creating of the shunting works time-table;

Monitoring system of request execution by both the consignee and the railway terminal;

Registration of the consignee additional information (the vessel, the bill of lading number, the issue number)

Calculation of the services such as weighing, car feeding/removing to/from the station and cargo facilities, additional shunting works execution rendered by the railway terminal;

Fuel spending registration during the locomotives operation;

Making of the reports:

List-calculation for reweighing, additional shunting, feeding/removing;

Weighing log (with dosage indicating);

A report about the consignee request execution;

A preliminary calculation of the railway terminal services;

A preliminary time-table of the car feed;

A time-table of the shunting works;

A report about the current location of the cars (list of the cars);

Analysis of the cars handling, execution of the cars handling plan, a payment register for using ot the cars etc.
More detailed information about the solution is available by the phone numbers: in Nickolaev (0512) 67-00-97, in Odessa (048) 709-11-79 or it is possible to request a demonstration.